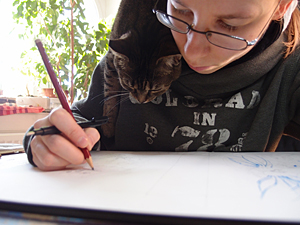 Schnuffel hilft beim Zeichnen
Hi, thank you for visiting! :)
My name is Josefine Spenke and I'm the owner of and artist behind JS-Tierportraits. I was born 1984 in Chemnitz/ Germany, where I still live together with 2 dogs, a cat and a couple of now old mice.
I've always loved animals and drawing ever since I was small and these two things have constantly accompanied me throughout my life, both separately as well as together in the form of pet and animal art. As a kid and teen I would draw and paint cats, horses and dogs all the time, both from photos and from imagination. As a special little sub-interest I loved making up believable markings from imagination, which at first solely was informed by observations I made. Later on I started reading up on coat color genetics, which I still do from time to time and which greatly helps me understand what happens in pets' coats (especially if reference photos are not very clear) and thus paint it correctly. However, while the pure appearance of animals was always important to me I also strive to learn about the inside: I successfully studied animal psychology (dogs, cats, horses specifically) on the side and later deepened my understanding of how animals think with a basic course in animal communication. All of these things have been vital for me to create portraits that shine with life, beauty and happiness! Painting a happy animal is an almost spiritual experience for me, which in turn helps make the art even more lifelike and real.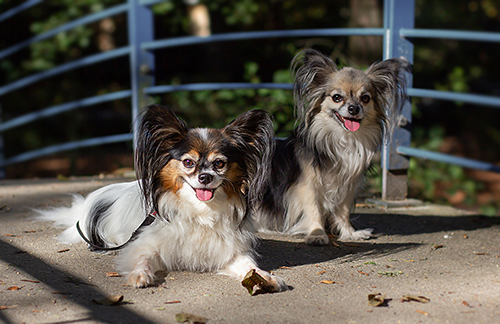 Despite all this, I ended up working as a dental laboratory technician for my dad's practice for over 10 years to make absolutely sure I have a stable income for keeping my pets. On the side, however, I would continue drawing and painting, I explored and learned new media like digital, acrylic and sculpting, which I most love to work in nowadays. For a while I was focusing on manga-type art, but looped back to the art of pet portraits in 2015, where I started JS-Tierportraits. There's just no comparison of being able to provide a pet owner with something so touching as a hand painted or sculpted version of their deeply beloved companion. The amount of beautiful emotions involved is unreal and I feel very honored to be a part of this every single time!
Since November 2021 I'm dealing with a chronic illness called ME/CFS that has largely rendered me unable to work normally, so I'm still figuring out how to adjust my life to that. Fortunately, however, I'm mostly still able to paint for a while each day, although only digitally on my laptopp. This and the presence and love of my dear pets are keeping me in good spirits during this time, I wouldn't want to miss any of them now especially. We'll see what the future brings, but in whatever shape or form, animals and art will continue to be a big part of my life. :)
~ Josefine